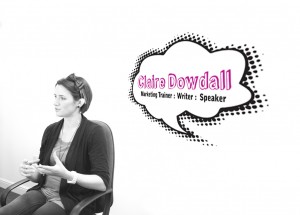 Do you need a logo for your new business?  Or has your existing logo seen better days?  It can be tricky to know what to tell a designer to get the best result, but this post will help you to ensure a perfect fit.
As I discussed in my previous post on branding; a logo isn't the be all and end all of your brand identity.  However, it's often the most visual and the most often seen element of your brand, appearing on pretty much everything you wave under your target market's noses.
So that's why I decided to go into more depth.  To my mind it's a case of 'first impressions count', and that is why people place so much emphasis on getting it right.  And I want to help you to do the same.
Where do I start?
Brainstorm away!  Start with thinking about the following elements:
Colours – which colours are appropriate to your industry, product and audience?  What colours do you like?  Try to strike a balance between the two.  You have to like your logo too!  Be careful with using too many or using colours like red (which can appear aggressive) and blue (which can appear cold and clinical)
Words – you need to include your business name, but what other words do you need?  Think about whether you need a strapline or something that says what you do or who you help
Images – do you need an image to illustrate what you do?  Is a character appropriate?  Be careful not to over-complicate things
Audience – who do you want to attract with your logo?  If you want to appeal to men, pink hearts and flowers might turn them off a little ;)  Think about what your logo has to say to them. Build a profile of who you want your logo to appeal to
Where? – where will you use your logo?  Think business cards, letterheads, website, newsletters, brochures, leaflets, social media, products, the list goes on!
Likes and dislikes – have a good look at other logos.  What do you like about them?  What do you not like?  Which might appeal to your customers?  What are competitor logos like?  Pick out all of the best bits to use in yours ;)
Choose the right designer
When deciding on who you want to design your logo, there are a few considerations:
Firstly, see who you like and connect with.  Do you like them and feel you can trust them?
Have they worked with people in your industry before?
Do they seem interested in your business and where you want to take it?
Do you like their work?
Do they like to have a detailed brief or a free rein over the design process?
How many sets of amends (changes) are included in their price?
Can you afford them?!
Ask for a recommendation - this is the most important factor in your search
Think about all of these things and if you can't meet them in person, have a chat over the phone to see if you get on.  This is very important in getting a good result and maintaining a good working relationship.  Trust is key!
Speak to your chosen designer
Once you have decided who you want to design your logo, find out what they need from you to do a good job.  As a small business, I'd advocate giving them as much information as possible so that you have control of the process and they feel fully informed.  Some designers at the high end prefer a totally free rein, but this isn't advisable for the budget-conscious small business!  Once you know what information they need, you can write up a brief.
The main content of your brief
Using the brainstorming results as above, plus any other information that the designer has asked for, you could structure your brief as follows:
Background – What your business is and where you want to take it.  Get your designer to engage with and understand your business goals
Industry – Give an explanation of the industry you operate in: who the main players are, direct competitors, challenges and trends
Target audience – Give as much detail as you can on who the logo is designed to attract and what response you want. This will affect colours, styles and any wording
Usage – Where will the logo appear?  This will affect the file types you need (print or web, for instance) as well as the number of colours.  E.g. the more colours you have printed on a mug, the more expensive it can get
Likes and dislikes – Examples of logos you like and don't like along with reasons.  That way you won't get something you hate!  Your designer will thank you as well ;)
Deadline – When do you want it?  Ensure your deadline is realistic to allow for any changes you might want to make
I repeat: trust is key!
This works in two ways.  Firstly, trust your instincts.  If it doesn't look right, say so, but say why.  Your designer will want to get a great result as much as you and you have to like it and feel comfortable with it.  But remember, secondly, to trust your designer.  If you've chosen wisely, they will know what they're doing and will certainly know better than you what makes a good design, or else why would you have hired them?
Ultimately though, you're the client and you're paying them.  Equally, they will want a strong logo and a positive testimonial in their portfolio, so as long as you find yourself an experienced graphic designer with the right kind of skills and background, you'll be fine.
Over to you
So what do you think makes a great logo?  Let me know by adding your comment below.
Until next time…
Photo courtesy of www.salopcreative.co.uk